Ofsted consultation we seek our members' views
As confusion seems to reign and the drama of Brexit continues to unfold, the much anticipated Education Inspection Framework brings a glimmer of hope for education in England. Amanda Spielman promised that the next iteration of the inspection framework would aim to rebalance inspection and bring integrity to the process. And indeed, the draft framework published 16 January recognises that the quality of education in our schools has been distorted by an excessive focus on assessment and outcomes.

How welcome the declared intention of this framework – 'to restore curriculum – largely 'missing in action' from inspection for more than a decade – to its proper place, as an important component of the quality of education.' NSEAD supports this aspiration, and will work alonsgside all those who wish to make it a reality.

Just imagine – an education that meets learners' needs, inspires, challenges and enables them to contribute to a thriving, arts rich society. Truly, it has never been more relevant.

NSEAD will continue to champion the right of pupils to a high-quality curriculum. We will support the work of HMI Susan Aykin, joining the Art & Design Expert group that she has convened. As a national society, we have the experience of four nations to contribute; there is much to be learned from the Scottish Curriculum for Excellence and the introduction of a quality indicator for creativity. We will ensure that your opinions and expert knowledge are represented.

I very much hope that you will respond to the consultation and take the opportunity to influence this framework. As you do so, please also add your voice to the NSEAD response, which we will present on behalf of our members. So, let's begin the conversation – we really want to hear from you.

The Ofsted consultation closes on 5 April 2019. Please send any comments for inclusion in the NSEAD response to michelegregson@nsead.org by Friday 15 March.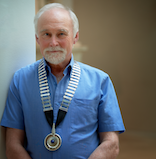 NSEAD Elections 2019
Dr Peter Gregory, who served as President of the Society during 2017-18, currently serves as Immediate Past President on Council, NSEAD Forum and the Finances & General Purposes Committee, ending his tenure on 31 December 2019.

Consequently, nominations are sought for a member of the Society to serve as President Elect during 2020, President during 2021-22 and Immediate Past President during 2023.

Individuals nominated to serve as President of the Society normally will be serving members of Council or will have completed a term as a member of Council.

The role of the President is to chair the Council, the Finance & General Purposes Committee and NSEAD Forum. The President may also represent the Society alongside or in lieu of the General Secretary. The President is supported by two Vice Presidents and the Honorary Treasurer.

The President Elect is nominated and elected by members of the Society by a postal ballot. The deadline for receipt of nominations is Friday 6 September 2019. Nomination forms are available from info@nsead.org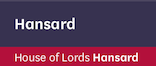 In a recent House of Lords debate, 17 January, The Earl of Clancarty, raised this question for the Government: 'What steps are they taking to encourage the teaching of art and design in schools.'

Briefed by NSEAD and in support of NSEAD's challenge on bursary inequalities, The Earl of Clancarty, vice-chair of The All-Party Parliamentary Group for Art, Craft and Design in Education specifically asked several questions pertinent to our work in ITE. We are now working with NSEAD's SIG for ITE to challenge Lord Agnew's responses.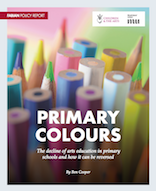 Primary Colours is a new report, published by the Fabian Society, which shows there is less arts education in primary schools now than in 2010. 

Of the survey respondents who took part in the survey, two thirds (68%) said there was less arts education now than in 2010, and half (49%) say the quality of what there is has got worse.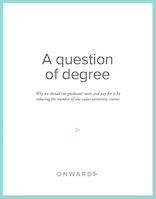 A new report called A Question of Degree published by Onward, a centre-right think tank and co-authored by Will Tanner, former deputy head of policy to Theresa May, has recommended that creative arts and design degree courses, offering what the report describes as 'poor financial return', should be cut.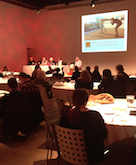 Notice of the Annual General Meeting
All members are invited to attend the 131st Annual General Meeting of The National Society for Education in Art and Design. This will be held as part of the annual conference, Saturday 29 June 2018, The Hepworth Wakefield. A draft agenda will be made available online for all members.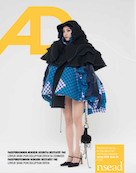 AD magazine #24, the gender and inclusion issue
Our most recent AD makes the case for a more gender inclusive subject – we begin to explore why we need to close the gender divide and how this can be achieved.

Thank you to all our members who contributed to this issue. If you, or a colleague, have an article proposal in mind or would like to discuss ideas, please contact Sophie Leach.

Learning by Design, is a professional development event for mid and senior career gallery and visual art educators, taking place from 4-6 March 2019.

Participants will find out about new developments in design and craft education form the host venues, the V&A, the Design Museum and the Crafts Council. The event is run by Engage, the National Association for Gallery Education and will be an opportunity for colleagues to work together over three days to reflect on their practice, review recent research network, and learn about UK and international contexts.

Southmoor Multi Academy Trust, Sunderland, seeks a full-time teacher of art and photography. 

Applications are invited from colleagues who can teach and support a range of subjects within an expanding art & design department which delivers a significant amount of examination groups from KS4 to KS5. The ability to successfully teach three specialisms: GCSE Fine Art, Photography (digital based) and Graphic Communication is an essential requirement for applicants.

Closing date for receipt of applications: 9am, 6 February 2019.
NSEAD
3 Mason's Wharf
Corsham
Wiltshire SN13 9FY

T. 01225 810134
E. info@nsead.org